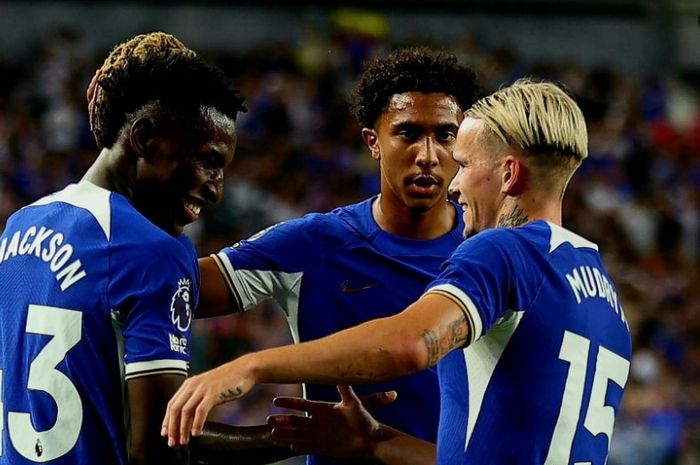 TWITTER.COM/THEBLUEDODGER
Mykhailo Mudryk (kanan) dan Nicolas Jackson tampil bagus di pramusim, Chelsea bersiap gemparkan Liga Inggris lagi.
BOLASPORT.COM – Winger Chelsea, Mykhailo Mudryk, mengaku baru mengeluarkan sedikit potensi terbaiknya bersama The Blues.
Musim perdana Mykhailo Mudryk di Chelsea benar-benar mengecewakan.
Dirinya gagal membayar kontan harga mahal yang dikeluarkan The Blues untuk memboyongnya dari Shakhtar Donetsk pada musim panas 2022.
Uang senilai 89 juta pounds (sekitar Rp1,6 triliun) menjadi mahar yang disepakati kedua tim untuk biaya transfer Mudryk.
Dengan biaya semahal itu, wajar bila kemudian publik Stamford Bridge punya ekspektasi besar terhadap winger timnas Ukraina tersebut.
Namun, sang pemain justru gagal menunjukkan penampilan apik pada musim 2022-2023 kemarin.
Hal itu bisa dilihat dari statistik melempem Mudryk di sepanjang musim tersebut.
Baca Juga: Samuel Chukwueze ke AC Milan, Kembaran Rafael Leao Bikin Lapangan Tidak Berat Sebelah
Menurut data dari Transfermarkt, Mudryk gagal mencetak satu gol pun bersama Chelsea dalam 15 laga di Liga Inggris.
Kemudian di Liga Champions, ia juga gagal mencetak gol bersama The Blues dalam dua pertandingan.