Image: StackCommerce
For you, back-to-school season may look a lot different than it did back when you were in elementary school. The days of picking a notebook and lunchbox in your favorite color may be over, but that doesn't mean you can't take this time of year as an opportunity for personal growth. 
Especially with our back-to-school savings event with discounts on tons of fun gadgets like this tiny TOKK™ CAM video camera. If you've been waiting for a push to start recording your life, workouts, or vacations in vlog style, this is your sign. For a limited time, you can grab this little camera for only $60.99, normally $89.99, plus free shipping!
Achieve your latest personal development goal
While you could use your smartphone to record vlog content, it can be hard to find a place to prop it up if you want to capture your bike ride, workout routine, or meal prep videos. The TOKK™ CAM is only an inch and a half wide with a magnet on the back so you can stick it onto any metal surface — your bike, workout equipment, kitchen appliances, and more.
The tiny camera captures 1280x720p HD video and high-quality sound through a built-in microphone. Everything you capture can be stored on a micro SD card (not included) or cloud storage through the camera's partner app. With your purchase, you'll even get a free 30-day trial to test out the cloud option, which may be a lot more convenient for you to transfer, edit, and upload your content online.
Another cool feature this mini camera has is its ability to record HD video in the dark with night vision — we bet your smartphone can't do that! This is perfect for capturing moments at night without using harsh flash.
Become the next big online vlogger
You could record the vlog content of your dreams with the TOKK™ CAM C2+ day and night vision camera, now only $60.99 (reg. $89.99) with free shipping for a limited time, no coupon needed.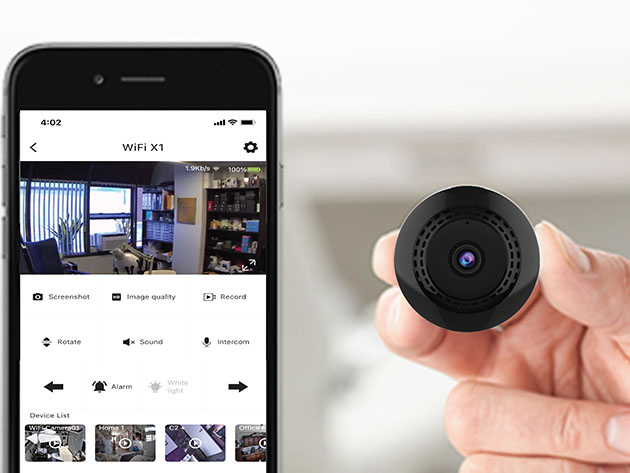 TOKK™ CAM C2+ Range of Smart WiFi Discreet Day/Night Vision Camera
Prices subject to change.