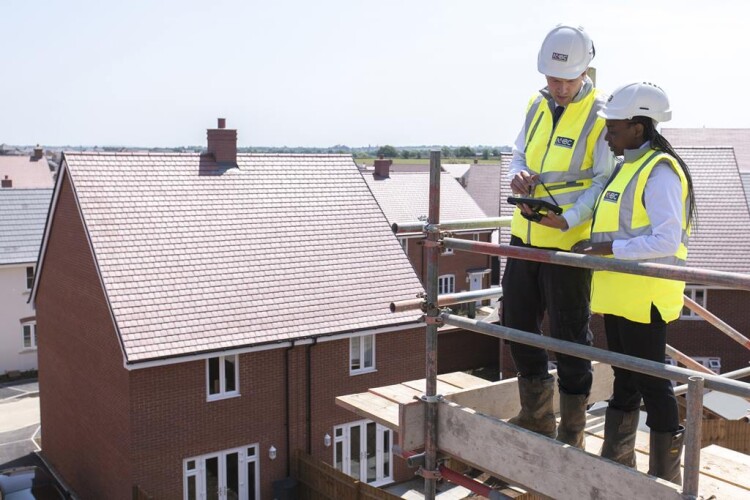 The National House Building Council (NHBC) has a roughly 75% market share of the UK new home warranties and insurance market.
Developers register with NHBC ahead of construction starting. Housing completions also fell in the second quarter but by a less dramatic 11%.
A total of 38,044 new homes were registered in the months of April, May and June, compared to 65,645 in Q2 2022.
NHBC attributed the scale of the reduction partly to the accelerated registration volumes in Q2 2022 caused by changes to building regulations in relation to energy conservation.
NHBC chief executive Steve Wood explained: "It is hardly surprising that consumer demand for new homes began easing in the second quarter. With mortgage rates at a 15-year high, volumes of homes built for private sales have weakened, although this is partly offset by bulk sales into affordable housing markets.
"The government's renewed focus on housing policy is welcomed, however a more favourable environment will be reliant on a fall in inflation, easing of mortgage rates and action to address the key supply side constraints of planning and nutrient neutrality."
There were 24,783 private sector registrations in Q2 2023, down 51% on Q2 2022. The rental sector saw a shallower decline, with 13,261 registrations in Q2 2023, down 14% on Q2 2022.
London and Wales saw increases registration in the second quarter – of 9% and 1% respectively compared to the same period last year. The northwest (-67%), northeast (-60%) and eastern (-56%) regions saw the largest falls in registrations.
Steve Wood added: "While new home registrations are down in Q2 2023, activity on site continues at a steady pace with builders focused on completing homes already in the pipeline. The increase in completions in the rental sector may signal a renewed focus on affordable housing, helping to address some of the underlying demand for new homes among those impacted by higher mortgage rates."
Got a story? Email news@theconstructionindex.co.uk