Saturday, July 29: A venerable building, a new swimming area — this project deserves praise, says one reader. You can write to us too, at letters@ottawacitizen.com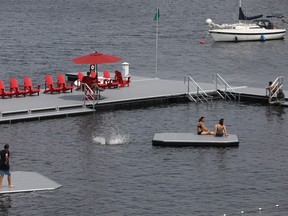 River House a wonderful achievement
THIS CONTENT IS RESERVED FOR SUBSCRIBERS ONLY
Subscribe now to read the latest news in your city and across Canada.
Exclusive articles from Elizabeth Payne, David Pugliese, Andrew Duffy, Bruce Deachman and others. Plus, food reviews and event listings in the weekly newsletter, Ottawa, Out of Office.
Unlimited online access to Ottawa Citizen and 15 news sites with one account.
Ottawa Citizen ePaper, an electronic replica of the print edition to view on any device, share and comment on.
Daily puzzles, including the New York Times Crossword.
Support local journalism.
SUBSCRIBE TO UNLOCK MORE ARTICLES
Subscribe now to read the latest news in your city and across Canada.
Exclusive articles from Elizabeth Payne, David Pugliese, Andrew Duffy, Bruce Deachman and others. Plus, food reviews and event listings in the weekly newsletter, Ottawa, Out of Office.
Unlimited online access to Ottawa Citizen and 15 news sites with one account.
Ottawa Citizen ePaper, an electronic replica of the print edition to view on any device, share and comment on.
Daily puzzles, including the New York Times Crossword.
Support local journalism.
REGISTER TO UNLOCK MORE ARTICLES
Create an account or sign in to continue with your reading experience.
Access articles from across Canada with one account.
Share your thoughts and join the conversation in the comments.
Enjoy additional articles per month.
Get email updates from your favourite authors.
I have been reading the letters to the editor lambasting the NCC about The Queen Elizabeth Driveway, but none so far has raved about the absolutely amazing job the NCC has done at the old club house on the Ottawa River. It is now called the NCC River House. It's completely accessible, offers free supervised swimming from 7 a.m. to 7 p.m., and has revitalized a magnificent historic building.
It's been beautifully done and is a wonderful example of our tax dollars at work for everyone. The only problem is getting there by public transport, which is difficult.
Kudos to the NCC.
Margot Cameron, Ottawa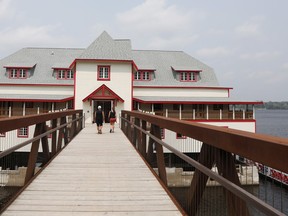 Westboro Beach needs services too
The newly restored New Edinburgh boathouse opened July 26 and the NCC's Tobi Nussbaum sings its praises. In addition to the club house, events and office spaces, it offers swimming lanes in the Ottawa River. It sounds like a wonderful facility, worthy of the Paris Olympics.
Meanwhile, the residents of a less-favoured part of the city are being warned to stay away from their local Ottawa River beach. The Lifesaving Society says Westboro Beach is too dangerous. The NCC and the City of Ottawa refuse to provide basic health and safety measures such as lifesaving and water-testing.
With the climate warming and three years of pandemic, parks and swimming locations are more important to the residents of Ottawa than ever. But the NCC did not plan wisely for the Westboro Beach expansion. Blaming labour problems and supply chain issues for delays, it closed the beach in 2022.
Recently, it removed barricades from the beach area itself. But what defence do the NCC and city give for refusing to provide water-testing and lifesaving services at Westboro Beach?
Martha Plaine, Ottawa
An alternative to the LRT?
Re: Phase 3 of Ottawa's LRT won't get built until Phase 1 and 2 are made reliable, premier says, July 25.
As a taxpayer, I couldn't agree more with our premier that the LRT is a "mess" and "a real disaster." Doug Ford says the province won't help fund stage 2 until stages 1 and 2 are running properly. The message is clear and I hope every one understands that the LRT was badly engineered and managed from the get-go.
I want my tax money to be properly managed, accounted for and well spent, not on a fantasy dream of the previous city administration surrounded by secrecy.
Let us go straight to the point. The troubles of the LRT in some cases may take more than a year to fix. Let us begin to think of an alternative to our untrustworthy transportation system before wasting more billions of dollars on stage 3.
Chapeau bas to Ford for his courageous decision to put a stop to this nonsense before the public loses complete trust in the city's transportation system.
Badih Shadid, Ottawa
Ford is right: no more cash
Finally, a politician making a sensible decision. Taxpayers do not have bottomless pockets and Premier Doug Ford has taken Ottawa Council  to task: no more money until the boondoggle you have created (the LRT) is fixed.
Why should more money be poured into LRT expansion when the system we have does not work as advertised? It is a novelty to see a politician asking value for money. Ford wants taxpayers' money to produce the results the funds were allocated for, not appease the masses or garner votes. Caveats for all provincial or federal grants would be a good thing: produce results or don't expect further funds.
George Ferrall, Orléans
Don't point fingers, Mr. Denley
Re: Doug Ford dumps on Ottawa LRT, ducks his own Toronto LRT mess, July 25.
Premier Ford is doing the right thing by postponing any financial commitment for stage 3 of Ottawa's LRT system. Stages 1 and 2 have been such a disaster, what would be the point of throwing more taxpayers' money down the drain?
This was a very poorly designed system — from the cars, to the tracks, to the stations — and there is no end in sight to the ongoing problems. As for Randall Denley's article, Doug Ford is the premier of Ontario, not just Toronto. To play the "point the finger" game, is a little irresponsible.
Robert Taylor, Ottawa
What long-term care really is
Re: Canadian governments guilty of 'major pandemic failures,' influential journal says, July 24.
Thank you for your full story on the detailed authoritative articles published by the British Medical Journal. We now know the sad reality that COVID-19 in Canada has shown that LTC homes meant Lethal-Term Care.
Eric Scheuneman, Maberly
Senior can stay at home, thanks to support
Having reached the age of 90, I mostly need a medical helping hand to support the time I have left. By some incredible stroke of luck, I am now blessed with a young, caring doctor who shows me the utmost respect.
He has so many patients and yet he finds time to see me, even at home when needed. This facilitates my care so that I don't have to linger in buses and waiting rooms. He also keeps in touch with a quick phone call to check-in.
With this kind of help, it's pretty OK to be living at home.
Suzanne Coulombe, Ottawa
This physicist deserves a mention
Re: Canada's little-known contributions to the atomic bomb, July 24.
The last paragraph of this article mentions the 13 Canadians who worked in that top-secret Los Alamos laboratory in New Mexico. However, it identifies only one of them: Robert Christy, from Vancouver. I would have singled out another brilliant Canadian physicist: Louis Slotkin, from Winnipeg.
Slotkin, 35, was arguably the foremost expert in the world on handling hazardous amounts of plutonium. On May 21, 1946, he was showing seven observers how a nuclear weapon's exposed core could be brought to the point of criticality in a delicate procedure nicknamed "tickling the dragon's tail." This involved lowering a tamper (a half-shell of beryllium) over the core to a point just before it was tightly sealed on the lower shell so as to produce a nuclear chain reaction that was short-lived and relatively weak.
Slotkin used a long-handled screwdriver in his right hand as a wedge to keep the top and bottom shells apart. The screwdriver slipped out of place and the tamper fell onto the core, causing it to glow and produce a fission reaction that released a massive burst of radiation. There was a bright blue flash and a wave of heat, then yelling and confusion. The security guard ran out of the room. Slotkin stayed behind to remove the beryllium tamper, thus ending the reaction.
Slotkin was hailed as a hero for preventing a greater disaster, at great risk to his own life. He died from acute radiation sickness nine days later.
Christopher Busby, Kanata
Cabinet shuffle only a mirage
Re: Trudeau drops seven key ministers in biggest cabinet overhaul yet, July 26.
The comprehensive reassignment of cabinet portfolios within Team Trudeau this week was nothing more than a reshuffling of the deck chairs on the Titanic, except for where it was actually required.
First, the same triumvirate of ministers responsible for economic policy — Chrystia Freeland, François-Philippe Champagne and Mary Ng — remains unchanged. Collectively they have overseen the implementation of economic policies that have resulted in more and more Canadians worrying about putting food on the table or a roof over their  heads.
Is it realistic to expect some kind of paradigm shift within this group to make the hard economic (versus political) decisions necessary to maintain Canadian standards of living?
Second, I would submit most Canadians don't know (or care) who the individual ministers actually are. This is still a Trudeau-centric government when it comes to policy development and communication. Despite some cabinet window-dressing to put a fresh face on things, so far there haven't been any changes within the ranks of the Prime Minister's Office, the real centre of power.
John Gilmour, Orléans
Poseidon purchase the correct move
Re: Canadian government risks misfiring on surveillance aircraft procurement, July 19.
The former commander of the RCAF suggests that the government should reverse the decision to purchase Boeing P-8 Poseidon Maritime Patrol Aircraft to replace our current fleet. He does not identify any shortcomings in the P-8 that would disqualify it, but rather says that since there was not a formal competition, Canadian companies did not have an opportunity to bid on the project, and that somehow the RCAF has an obligation to "nurture" the Canadian aviation industry.
The last time the Canadian aviation industry designed and built a Maritime Patrol aircraft was the 1950s, when it took a British airliner, totally rebuilt it to military standards, and added foreign engines and mission equipment with the hope it would lead to international sales. The ARGUS served us well, but no one else bought any. A lot of time and money was spent "nurturing" Canadian industry.
The Boeing P-8 is the only long-range Maritime Patrol aircraft in production today in the western world and has been purchased by the United States, United Kingdom, Australia, New Zealand, Norway, India and South Korea. Boeing intends to cease production of this aircraft in 2025, which led to Canada's decision to sole-source acquisition. Several prominent Canadian companies are teamed with it.
A decision to instead hold a formal competition would allow a team led by Bombardier and General Dynamics Canada to propose a new entry based on Bombardier's Global 6000 business jet, a much smaller aircraft. This aircraft does not yet exist in a production military maritime patrol configuration. It is a superb aircraft designed to carry passengers long distances, usually at high altitudes. Can it perform as well at very low altitudes carrying a much heavier load of sensors and weapons, in all weather conditions? We don't know, but we can be sure that it will cost a lot of time and money in development to find out.
Of interest is that Bombardier and General Dynamics have been working with SAAB in Sweden promoting the development of a Maritime aircraft called SWORDFISH with little success. It too would use the Global 6000. I guess Canada is to be the next target.
Would it hurt to have a competition as is normal? Yes; Boeing will shut down production of the P-8 in 2025 even though it dominates the market. Why? Could it be that there is very little potential market left? That means the competition could last no more than 18 months, or the P-8 would no longer be available, and we would be stuck with "nurturing" Bombardier. Does anyone believe that our military procurement process could complete a competition in 18 months?
The government has made a sensible decision.
Cdr. (Ret) John W. McDermott, Carlsbad Springs
Sole-source deal makes sense
Of all the activities undertaken by the federal government, its performance in defence production is the worst by far. It seems no such projects ever come close to completion on time and always far exceed budget. We can't even replace Second World War handguns without issues, let alone larger projects like ships and planes.
So what to make of Lt.-Gen. (Ret'd) Michael Hood's complaint that the government may give a sole-source contract to Boeing in the U.S. to upgrade our aging (like all our major defence equipment) CP-140 Aurora aircraft because Boeing plans to discontinue its production of a comparable plane in 2025.
Hood says the decision to upgrade the Auroras was made in 2013 and Canadian companies should be invited to enter the bidding process now, 10 years later, with the entire project scheduled for completion in 2030.  He says our planes would be superior. He refers to the decision to go with Boeing as "accelerated," which I guess it is when you compare it with the snail's pace of our defence production. I'd guess Boeing would get cracking and do the job and our people would take forever.  So do we take the Boeing plane on schedule or our (in his opinion) superior product way down the road?
Peter McNaughton, Ottawa
Bank's bonuses not justified
Re: Bank of Canada employees got $20M in pay raises in 2022 amid inflation crisis: documents, July 13.
I just read that bonuses and raises paid to employees of the Bank of Canada amounted to $26.7 million in 2022. It would appear that homeowners with variable mortgages are not too pleased to hear that any bonuses were paid.
I do understand that inflation is an ongoing issue but $26.7 million? Give me a break.
Garry Fisher, Arnprior
Comic strip violence unhealthy
Has anyone else noticed that in recent days the comic strip Peanuts has characters punching or kicking one another whenever they have a dispute? It is "only a comic" but it sends absolutely the wrong message to younger readers.
Time for the strip to be retired?
Tom Shoebridge, Lanark